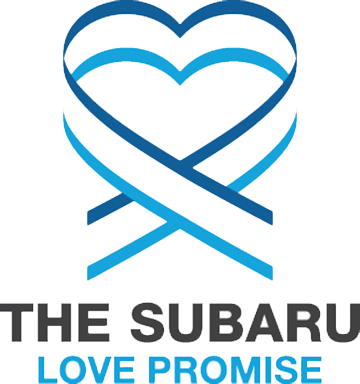 What is the Subaru Love Promise?
Subaru and our retailers believe in making the world a better place and the Subaru Love Promise is our vision of respecting all people. This is our commitment to show love and respect to our customers and to work to make a positive impact in the world.
How is Grand Prix Subaru dedicated locally to the Love Promise?
Our Love Promise can be seen in various partnerships with local charities and non-profits. We're grateful for the opportunity, not only to be a part of our community, but to serve it as well.
Wildlife Conservation Society
cohen children's medical center
Northwell Health Foundation
Love Promise Stories from Grand Prix Subaru
Subaru and Grand Prix Subaru believe in making a positive impact on the communities in which we live and work. We uphold that belief through our Love Promise Community Commitment. Every month, we select inspiring stories from customers and partners from around our area who strive to support our collective commitment and feature them here
A match made from the rainbow bridge - Nadene M
Kenny and his family were mourning the loss of their beloved Boxer, Kleo. One day he stumbled upon an Instagram post of ours about a litter of puppies that had just survived the deadly Parvovirus. We were looking for committed homes willing to continue to help these puppies thrive physically and mentally. While going through the adoption process, it just so happened that Kenny lived less than a mile from our NY coordinator who had taken the puppies in. During his home visit, they began to chat and it turns out that that very same coordinator had purchased a Subaru Outback from the same dealership that Kenny works at. Kenny was kind enough to facilitate our involvement in this wonderful promotion offered by Subaru. We were lucky enough to find him and his wonderful family their newest four legged family member.
---
3rd Annual "Make a Dog's Day" Event - KATHY Y
On October 22, 2021 Grand Prix Subaru had the pleasure of partnering with the Nassau County SPCA and participate in Subaru's 3rd Annual "Make a Dog's Day" campaign event. This is Subaru's annual nationwide campaign to help animals in need, with a special emphasis on hard-to-adopt shelter dogs. Last year, the campaign found homes for more than 22,000 pets nationwide. Subaru says it's a day dedicated to making all dogs feel loved and cared for. Throughout this year's campaign, Subaru will again champion special needs, hard-to-adopt shelter dogs— ones Subaru refers to as the "Underdogs". These are dogs that are older and are deaf, blind and "different". Pets add so much joy to our lives, and in October, Subaru dedicates the month to returning that love to our furry friends at home, as well as shelter pets in need of loving homes. Customers from both Grand Prix Subaru and the Nassau County SPCA were greeted by these loveable 4 legged animals with lots of tail wags and wet kisses. As of this writing, 2 of these "Underdogs" were in process to find their forever homes. We can't thank the SPCA enough for their support and dedication to help save these animals. More importantly, thank you to all the families that attended this event and opened their hearts to adoption. Because of their love and support, these Underdogs will now live out their remaining years surrounded in love.
---
Donating the use of Grand Prix Subaru Cars - Rachel R
When the COVID numbers started spiking and so many people were donating their time to help front line workers and first responders in need, Grand Prix Subaru figured out a way that they too can help. They donated the use of their cars to Goldatech, a company making PPE for all of the front line workers and first responders. This was a way to ensure that the donated personal protective equipment being made would make it to all of those who were in need, safely and securely. I am so proud to be a part of the Grand Prix Subaru community!
---
Hicksville Garden Civic Association Donation - Nicholas S
Grand Prix Subaru truly goes above and beyond for their community. During this time of uncertainty, Grand Prix has taken the time, and effort to donate to their local civic association scholarship program. Actions speak much louder than words, and at Grand Prix Subaru they don't just "say" they want to help their local communities, they actually do so. Thank you, Grand Prix, for your donations!
---
Donating Blankets! - Leanna R
It is just incredible to see pillars of our community giving back! When I tell you, I was floored when I found out that a local car dealership was volunteering time out of their day to visit urban areas and donate blankets to the homeless, I almost couldn't believe it. Grand Prix Subaru truly holds true to their promise on doing what they can to give back to their communities.
---
Children's Cohen Medical Center - Carol P
On June 11, 2019 Grand Prix Subaru and the Long Island Chapter of The Leukemia & Lymphoma Society had the pleasure of delivering blankets and arts & craft kits to Cohen Children's Medical Center as part of the Subaru Loves To Care program. These comforting gifts were accompanied by personalized messages of hope written by the customers and staff of Grand Prix Subaru. Danielle Young, the special events coordinator for Cohen Children's Medical Center, was thrilled to distribute these comforting gifts to their patients. The representative from Grand Prix Subaru, Dan Ross, shared that he was touched by the stories of the patients being treated there because some of his fellow employees have a connection to LLS' mission. LLS is proud to partner with Subaru to spread hope, love and warmth to those fighting cancer, across the country and right here in our Long Island community.
---
Great Experience! - Adrian D
I was looking for a very specific car and my sales rep, Tom Cali, really put the time and effort to track down the options I was looking for. I was treated respectfully and the whole team made the experience great. Thank you Grand Prix Subaru!!. Love the new car!!
---
Grand Prix - Gilberth C
My experience with Grand Prix was exceptional, they were super helpful and right to the point with what I wanted, they helped me find the best deal possible for my new 2019 WRX STI. Special thanks to Andre Chandool great salesmen and strongly recommended.
---
Cohen's Childrens Medical Center - Angela C
Grand Prix Subaru joined the Leukemia and Lymphoma Society to deliver blankets, craft kits, tote bags and messages of hope from their customers to patients being treated at Cohen's Children's Medical Center. Tricia Ottaviano, the special events coordinator for the hospital, was thrilled to accept the donations on behalf of their patients. The representative from Grand Prix Subaru, Dan Ross, shared that he was touched by the stories of the patients being treated there because some of his fellow employees have a connection to LLS' mission.
---
Great Experience at Grand Prix - Laura B
This is my second Subaru and I am so happy that I went to Grand Prix this time. We dealt with Roy and he was super! No games, made sure I got just what I wanted. Chris in Finance was wonderful as well. I will definitely be back when for my third Subaru
---